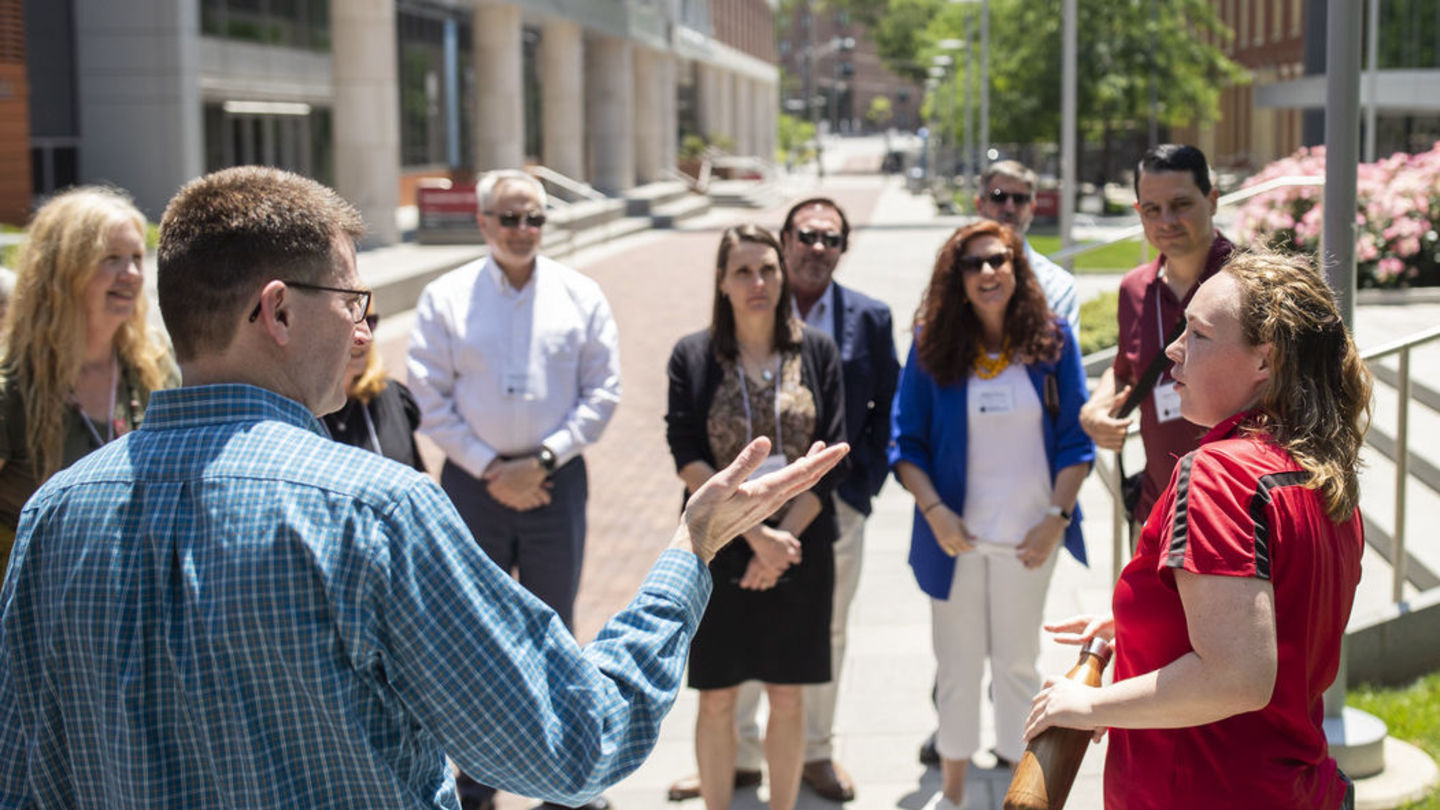 Ryan S. Brandenberg
As a top research university, what is our obligation to our undergraduate students and ultimately our society? It is a big question but one that the members of the Association for Undergraduate Education at Research Universities (UERU) undauntedly pursue. Their answer, in fact they call it their imperative, is that our institutions need to offer both access and excellence. 
Seventy plus members of UERU, mostly vice provosts of undergraduate education (the UVP network) from across the country, converged on Temple's campus in early June to advance this imperative by looking specifically at some of the hallmarks of undergraduate education: community-engaged learning; diversity, equity and inclusion at urban-serving institutions; and general education programs.
They chose to meet at Temple University, an exemplary urban-serving research university, known for its community commitment and leadership in diversity, equity and inclusion.
"All of us are working to create change on our campuses to better engage, educate and orient our undergraduates in a new and changing world," said Dan Berman, vice provost for undergraduate studies at Temple and the meeting's organizer. "Hosting the meeting is an expression of our (Temple's) commitment to undergraduate education and to remaking it in a way that broadens how we support students and improve access." 
Access and Excellence by 2030
U.S. research universities are among the largest, most diverse, most effective and most respected institutions of higher education in the world, states the Equity-Excellence Imperative, a recently released report sponsored by UERU and authored by The Boyer 2030 Commission, that crystallizes the urgency—both societal and economic—to deliver both access and excellence. It builds off of the Boyer 1998 Commission report: Reinventing Undergraduate Education: A Blueprint for America's Research Universities. 
"In pushing for both excellence and access, we're calling for a more diversified way of teaching and creating undergraduate programs that help more students succeed," explained Steven Dandaneau, executive director of UERU and associate provost at Colorado State University. "We're seeing more students who aren't traditional university students and we need to meet them where they are and make it all work for them." 
Jose Aviles has experienced this shift firsthand. Temple's new vice provost of enrollment management took part in the UERU session on urban-serving institutions: Racial Justice, Equity and Access. 
"We have a shrinking market of students who are best prepared for college—and they've always been our target," Aviles said. "But there's a growing population of first generation, low-income and historically underrepresented students. If we don't intervene and actively build relationships with these students, and become an authentic destination for them, there's a likelihood they won't go to college."
Delivering Excellence
Educating millions of students each year, research universities are those ranked R1 or R2 by the Carnegie Foundation.
Of the more than 2,800 four-year higher education institutions in the U.S., only 146 are classified R1, or doctoral university, very high research activity. Temple University counts among this esteemed group. R2 institutions, or doctoral universities, high research activity, total 133.
While most understand these classifications indicate a university's level of research activity and academic degrees offered, it also means a world of difference to students. By attending an R1 like Temple, students are immersed in a rich atmosphere of discovery and creation. 
"We're the schools creating knowledge," said Dandaneau. "We teach in the classroom what's going to be in the textbooks years from now. We're on the forefront of asking questions and exploring dilemmas in life. Our students benefit from being in a culture of inquiry, by having access to leaders in their professions and to the great diversity of large-scale campuses."
As a result, our students also become leaders. 
Temple senior Nala Hamilton won a prestigious Goldwater scholarship this year in recognition of her research achievements and promise. A first-generation college student from Harrisburg, Pennsylvania, Hamilton wanted to attend a research university and cited affordability, resources and opportunities in explaining why she chose Temple. Currently participating in the university's Diamond Research Scholars program, Nala uses computational biology to study genetic differences in disease.  
Improving Access 
All students deserve the chance to participate in life-changing educational experiences like Hamilton's. Spearheaded by the work of UERU, research universities are taking a number of steps to remove barriers to college attendance and student success.
Five-year engineering programs are looking at moving to four years, saving students from having to pay for an additional year of college. 

Making admissions test-optional has increased the college attendance of more diverse but equally qualified students. Data shows that standardized tests contribute to inequity as students from minority- and low-income backgrounds score lower on average.

More and more universities are working with faculty to change teaching strategies in courses that are often considered "weed-out" courses—those with a high fail or withdrawal rate—such as calculus or chemistry. These are often large courses in which there are long-standing inequities in student success rates. Temple's Project SOAR is a good example. 
Boyer 2030 outlines more ideas and solutions to improve access, including many already in operation at research universities across the country.
Urgency Now
As outlined in their Boyer 2030 Commission report, UERU members say the time to improve undergraduate education is now. Their determination stems from the unprecedented confluence of difficult issues facing society and higher education. 
"Threats to equality, divisive politics, a mental health crisis, climate change. At the same time there's declining trust in and financial support of higher education. Solutions to these issues require educated and engaged citizens, and it's through our undergraduate population that we make changes, increase understanding and create new knowledge," said Dandaneau. 
For more information on UERU and the Boyer 2030 Commission report, visit ueru.org.
- Eryn Jelesiewicz