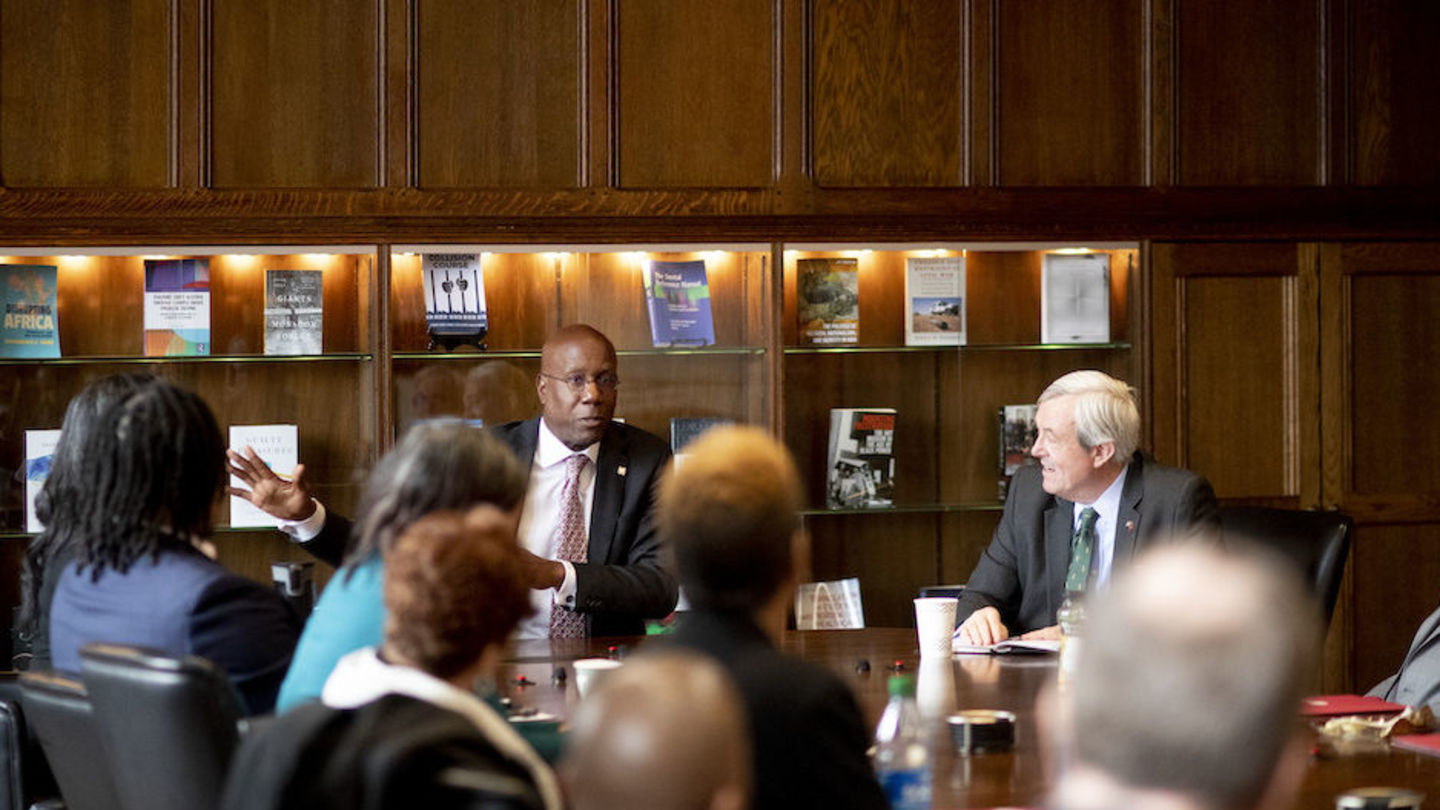 Ryan S. Brandenberg
Temple leadership and local elected officials agree: The futures of Temple University and the city of Philadelphia are closely intertwined.
President Jason Wingard and Chief of Staff Sophia Lee hosted a gathering of state and local officials on Jan. 30. The group was composed of lawmakers whose districts cover one or more of Temple's campuses. Attendees included state Senator Jimmy Dillon, state Senator Sharif Street, state Senator Tina Tartaglione, state Representative Donna Bullock, state Representative Malcolm Kenyatta, Philadelphia Councilperson Cindy Bass and a representative from City Council President Darrell Clarke's office.
The officials, several of whom are Temple alumni, expressed their strong enthusiasm for supporting the university in areas like safety, diversity, access and preparing students for the future of work.
The group discussion spanned a wide range of mutually beneficial plans and goals. "We welcome advice and feedback and more opportunities to partner with all of you," Wingard said.
A big part of the conversation centered on addressing challenges such as violence in the city, and the stresses and challenges faced by today's college students. Street pledged to seek more funding in Harrisburg to improve campus safety. Bass noted that the mental health crisis is also a significant issue for her constituents citywide.
Kenyatta asked how to get more Philadelphia students admitted to Temple, stressing that financial assistance and support were essential to him earning his Temple degree.
The key is continuing to prioritize affordability, access and degree completion, said Wingard, as he highlighted programs like the Temple Access Fund. "Student loan forgiveness is only a band-aid; we have to bring down the cost," he said. "Preparing K-12 students to be ready for college, especially after the impact of the pandemic, is also critical and a component of Temple's community engagement plan." 
The group supported making Temple University the best institution in the country for diversity, not just in numbers but in resources. "More diversity means better learning," said Wingard as he outlined how the Center for Anti-Racism and DEI initiatives will benefit both Temple students and the surrounding North Philadelphia community.
The leaders also addressed a central question: What does a bold and sustainable approach to higher education look like in Philadelphia and across the state? Wingard shared his thoughts on possible ways to strengthen Temple's curriculum, teaching and learning to meet the needs of employers. And Bullock signaled her support for more esports and coding programs for Philadelphia's youth.
Other possibilities include adding certificates, micro-degrees or alternative credentials at Temple to increase enrollment and give students more options.
The group has already planned follow-up actions on items discussed. "We're excited to partner and collaborate with you, so that we can all win," Wingard said.
- Wendy Ramunno