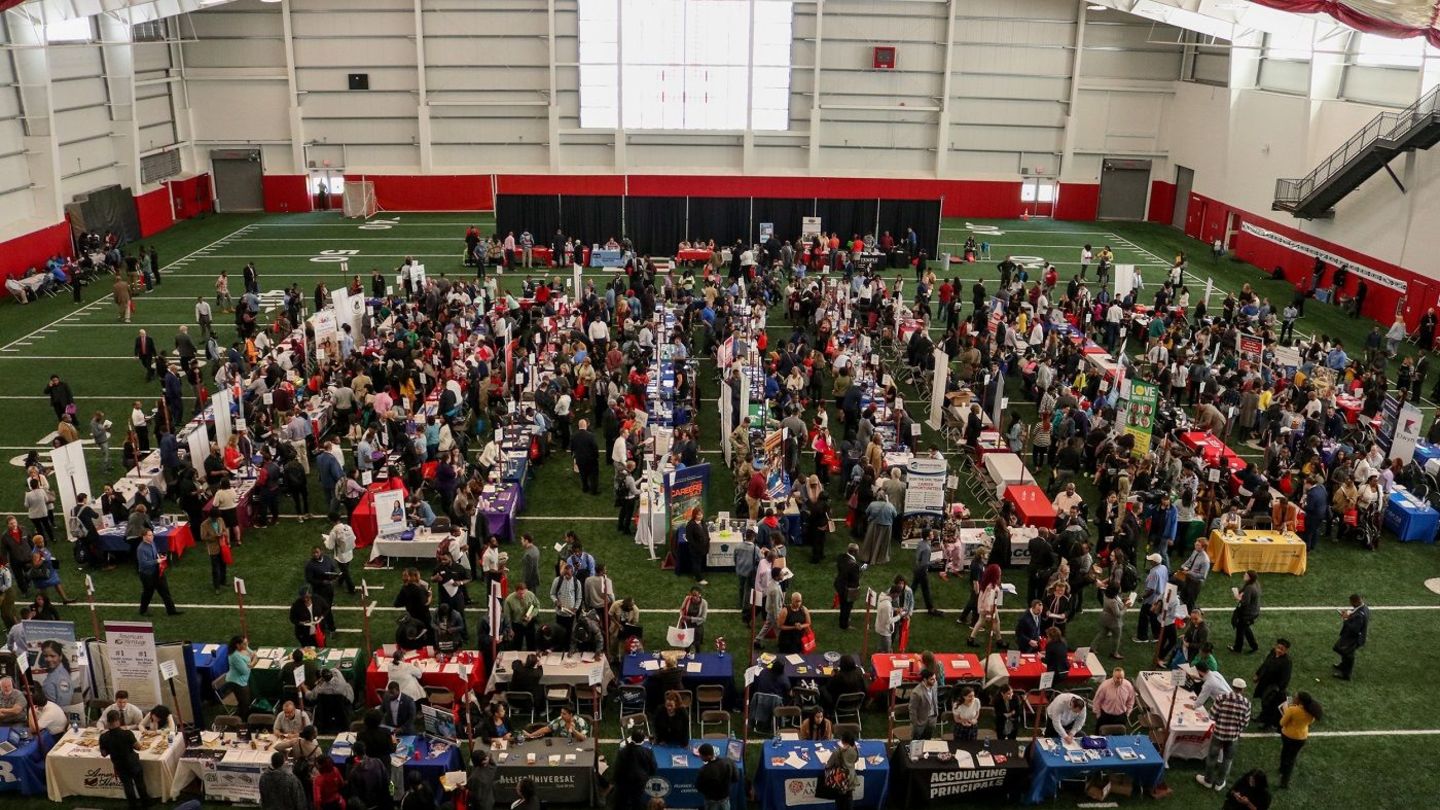 Ryan S. Brandenberg
Over the years, a sea of hopeful job seekers has lined up outside the Temple University Aramark STAR (Student Training and Recreation) Complex for Philadelphia's largest annual employment event. This year, the event will return Friday, June 16, with the 16th Neighborhood Job Fair and Resource Village. Temple has hosted the event since the early 2000s and more than 1,000 job seekers and 145 employers are expected to attend.  
"We vet every employer to ensure they each have jobs in hand ready to hire," said Michael Robinson, the director of community outreach and hiring for Lenfest Center for Community Workforce Partnerships. "We have had blue chip public figures like former Governor Tom Wolf, State Representative Donna Bullock, Senator Sharif Street and Gov. Josh Shapiro speak at our job fair on why they support workforce, career and economic development initiatives."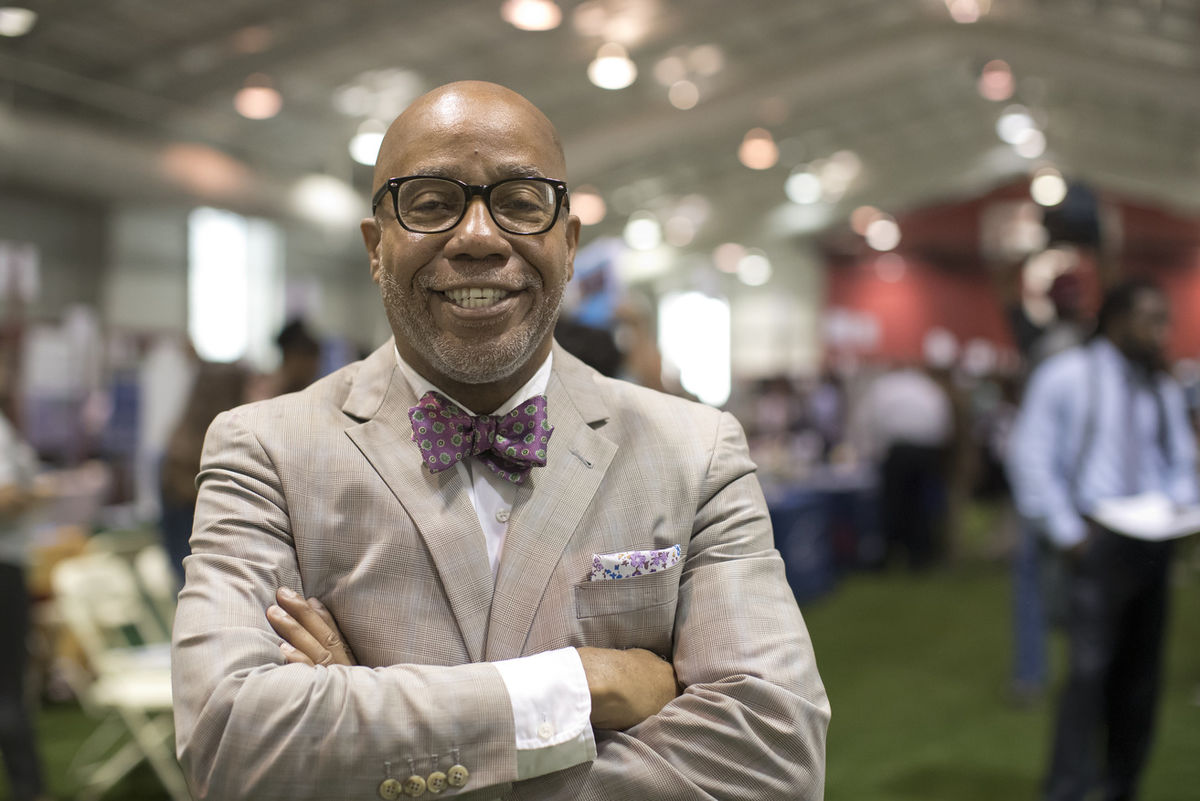 Michael Robinson is the director of the community hiring initiative at Temple University. He is the producer of the largest annual citywide job fair in Philadelphia and co-producer of the largest annual law enforcement job fair on the East Coast. (Photography by Ryan S. Brandenberg)  [node:sidebar_text]
The job fair is open to the public and sponsored by Temple University's Lenfest North Philadelphia Workforce Initiative (LNPWI), which provides education, training and employment services for North Philadelphia residents to help them secure sustainable careers with livable wages. Additional sponsors include the Pennsylvania Legislative Black Caucus, a prominent body of legislators in the Pennsylvania House of Representatives, and Radio One, the only national minority-owned broadcasting radio group in the country. This year's keynote speaker will be Lucas M. Miller, the Pennsylvania office of state inspector general. 
William Hart, associate director of community affairs and engagement at Temple, is the founder of Temple's neighborhood job fair. Robinson, who succeeded Hart in directing the fair, has since expanded the fair into Temple's largest community engagement event of the year. Robinson credits the success of the job fair to Hart's commitment to best serve the North Philadelphia community.
 "Hats off to Bill for the job fair because it would not have reached this level of success without his vision," said Robinson. "He saw a need for Temple to serve our North Philadelphia community more deeply by committing to being a better neighbor. He advocated for the university as one of the largest employers in the city to hire more within their community. 
"Our job fair has since created opportunities for people from diverse backgrounds, including grads, military veterans and reentry candidates," he added. "We offer workshops on how to best dress for job fairs and strategies to navigate a job fair so that participants can get the most mileage out of the experience." 
He also credits Jonathan Latko, executive director of information technology services at Temple, with making sure that a computer lab is available on-site, so that job seekers can either apply to a position online before or after they meet an employer at the event. 
Myra Brown, KLN '84, FOX '92, CEO of NWON Opportunities, a career readiness organization, said her company had been a part of the job fair for several years due to its strong reputation.  
"We had a success story on the day of the job fair where we interviewed a young lady, called another employer and were able to set up an interview on the spot last year," said Brown. "She later had an in-person interview, passed all the credentials and got hired. We also met a young North Philadelphia resident who got hired as a maintenance and repair technician for SEPTA after the event. He told me the opportunities at this job fair are not only changing lives but saving lives. 
"The beauty of this job fair is there are always a good core of individuals. The employers know each other, so we are like a community helping each other, and Michael is so dynamic and always does a great job hosting the event," she added.  
The job fair will also have a physical resume drop-off station for candidates interested in working at Temple. The resumes are shared with university partners to match candidates with open positions that fit their interests.  
Temple has a success rate of hiring between 9-11% of its workforce from the North Philadelphia area, which translates to more than $52 million in cumulative income earnings a year, according to Robinson. 
He explained that LNPWI also provides free career coaching, job referral, resume writing, mock interview coaching services and other resources, which will be available for job seekers before the fair on June 14 at Zion Baptist Church from 8 a.m. to 3 p.m.  
"Our resources include clothing vouchers for individuals who need business attire for job interviews," he said. "We also offer our residents to help pay for some college classes and other certificate class programs required to pursue their careers." 
About Temple University's Lenfest North Philadelphia Workforce Initiative 
The Lenfest North Philadelphia Workforce Initiative was founded in 2018 through a grant from the Lenfest Foundation and support from Temple University. LNPWI seeks to strengthen the earning potential of local communities by providing job training and career readiness programs that lead to sustainable employment. In addition, they partner with stakeholders, including workforce development providers and employers, to strengthen the ability to connect all North Philadelphia residents with career pathways. 
The neighborhood job fair event will be held on Friday, June 16, at Temple University's Aramark STAR (Student Training and Recreation) Complex at 1816 N. 15th St. from 9 a.m. to 2 p.m.