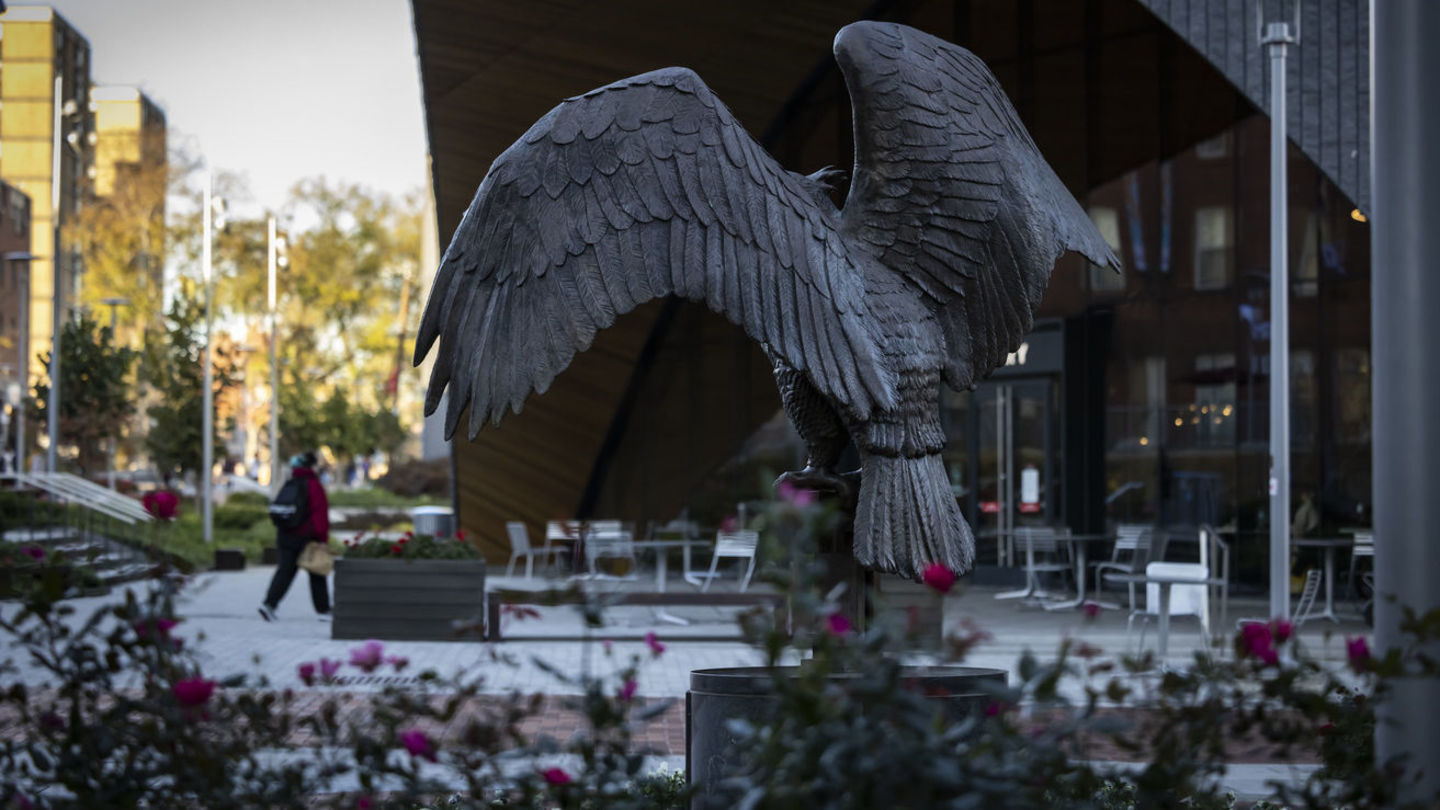 Betsy Manning
The United States is in the midst of an unprecedented epidemic of violence. Cities are seeing record levels of violence, and Philadelphia is no exception. Last year was the deadliest year in the city's history, and this year is not far behind.  
While Temple University's Main Campus has one of the lowest rates of gun violence in Philadelphia, several of the zip codes that surround campus, where many Temple students live, regularly see high rates of violent crime, which impacts both their safety and well-being. As both an R1 institution and Philadelphia's public university, Temple can play a key role in helping reduce violent crime and create an overall safer community. This can only be done, however, by harnessing the collective expertise of the entire Temple community, which was exactly the thinking behind the convening of the Violence Reduction Task Force. 
Temple University President Jason Wingard initially brought the group together last winter to review the university's existing violence reduction efforts and consider other innovative violence reduction initiatives. After a thorough six-month review period, the 20-plus member group issued its findings and recommendations in its final report, which was released late last month. These findings can be viewed within the new violence prevention website. 
"We know that solving violence requires urgent action, and I would like to thank our police for their tireless work. Temple cannot solve it alone, but our public policy and research enterprise allow us to be a part of the solution," Wingard said. "I am grateful for the drive and dedication of the Violence Reduction Task Force over these past several months. We have already begun implementing many of its recommendations, and we will continue to introduce more next semester and beyond." 
The task force, which met for the first time last March, comprised stakeholders from across Temple's campuses and community, including students, parents, faculty, staff, neighbors and area businesspersons. Provost Gregory Mandel and Vice President for Diversity, Equity and Inclusion Valerie Harrison served as the executive co-sponsors of the task force. Jennifer Ibrahim, interim dean of the College of Public Health, served as chair. 
The larger group met on a regular basis to discuss high-level conversations, but as this was happening, smaller working groups were also working concurrently on the issue. The smaller groups focused on four specific areas including 1) assessment of existing efforts at Temple to address violence, 2) assessment of violence reduction efforts at other large urban institutions, 3) opportunities for greater collaboration and coordination and 4) communication strategies to better disseminate information regarding violence reduction efforts at Temple. 
"For a place like Temple, especially given that it's located in an urban environment, this was a significant opportunity," Harrison said. "Temple is uniquely positioned, as most colleges and universities are, to provide resources, support and a platform for its faculty, its staff and its students to bring their expertise to help combat societal problems like gun violence. So because of that, we focused on non-law enforcement strategies in addition to law enforcement strategies." 
Eight key overall recommendations came from the task force: enhancing campus safety capacity, increasing the use of technology, enhancing campus safety communications, developing a comprehensive and coordinated strategy for community engagement efforts focused on violence reduction, collaborating with city partners, increasing research capacity and enterprise, creating an advisory board to continue the conversation about gun violence, and exploring ideas for sustained funding for violence reduction efforts on campus and in our surrounding neighborhoods. More details on each key recommendation can be found directly in the task force's report.
Finalizing each recommendation was no small undertaking. It was also a considerable time investment. 
"I let my manager know the importance of this as we were meeting every Friday," said Karla Brown, who served as one of the parent members of the task force. "Thankfully, my manager actually allowed me to take the time off. This was that important to me because I care about Temple, the students and the community. My daughter graduates in 2025, but I am happy to still be involved even after she leaves campus." 
Ken Giunta was a parent member of the task force and chaired the working group focused on the assessment of violence reduction efforts at other large urban institutions. That group met with six other universities to help finalize suggested best practices for Temple. Giunta also attended The Center for Evidence-Based Crime Policy's 2022 Symposium at George Mason University. 
"From our assessment efforts, we saw that this is impacting other universities in other urban areas across the country as well. And to combat this, it really needs to be an all-hands-on-deck approach. The responsibility does not simply rest with the Department of Campus Safety. As institutions of higher learning, universities offer a lot of intellectual capital. To address crime, universities like Temple should engage other parts of the university, to work with campus safety like the Department of Criminal Justice, the Department of Urban Planning and those offices and departments involved with community engagement and volunteering in the community," Giunta said.  
"There is a very real need to address crime in the immediate term like through policing and lighting, while also tackling the long-term systemic issues that underpin crime such as poverty, systemic racism and school failure. The bottom line is that no university can do this alone. It has to engage with other universities, with the city, with community actors, nonprofits and businesses. So, in the task force report, we recommended immediate, intermediate and long-term solutions to crime reduction," Giunta continued.  
Many of the recommendations have already started or are in the process of being implemented. For instance, Vice President for Public Safety Jennifer Griffin, who joined the university in August, has already focused on increasing the number of communications coming out of her office. In the last three weeks of November, the university administered six separate universitywide communications related to either campus safety or crimes that have happened near Temple's campus.  
Recruitment of police officers is an ongoing process, and Temple supplements its ranks through additional patrols from the Philadelphia Police Department as well as through security officers from Allied Universal and the Bureau of Liquor Control Enforcement. Temple is within the final stages of an audit of its 1,000-plus cameras and is working to encourage private landlords to install additional cameras and lighting throughout the patrol area through the security grants program. Griffin is also exploring additional types of technology to utilize to enhance safety and security. 
"We are exploring a variety of tools and technology to increase our capabilities while crafting a strategic plan for our department, which will address initiatives in recruitment/retainment, professional development, crime reduction strategies, messaging and communication, and collaboration and coordination," said Griffin, who joined the task force after starting in her role at Temple. 
"The one thing I will say is that transparency is really important, and that came out of this report as well," Brown said. "We don't want Temple to take responsibility for the crime, but we want the university to acknowledge that it's happening, and then once you acknowledge that it's happening we can come up with a solution. (Jennifer Griffin) has opened up communication so much since she's been here, and I really appreciate that." 
Other recent developments that align with the recommendations of the task force include Temple recently opening its Center for Anti-Racism.  
"Its function is to work to remedy the harm that racism plays in the lives of marginalized groups in the United States, particularly those residing in North Philadelphia," Harrison said. "This gets at one of the root causes of gun violence, and this is how you start to reverse trends over time." 
Additionally, Temple recently joined in partnership with the city as one of the member organizations of the Civic Coalition to Save Lives. Many of the other recommendations are now being implemented. 
"The community aspect of this is very important. Reduction must emanate from and be owned by those who live in the community. There are countless persons who've been invested in this work for decades. It's critical that Temple provides them with the support that they tell us they need. So, for example, we've learned that our neighborhood partners need technical assistance to apply for and receive grants as well as counseling support. Temple wants to meet those needs," Harrison said. 
For more information on the report, its findings and broader recommendations, visit the violence prevention website.