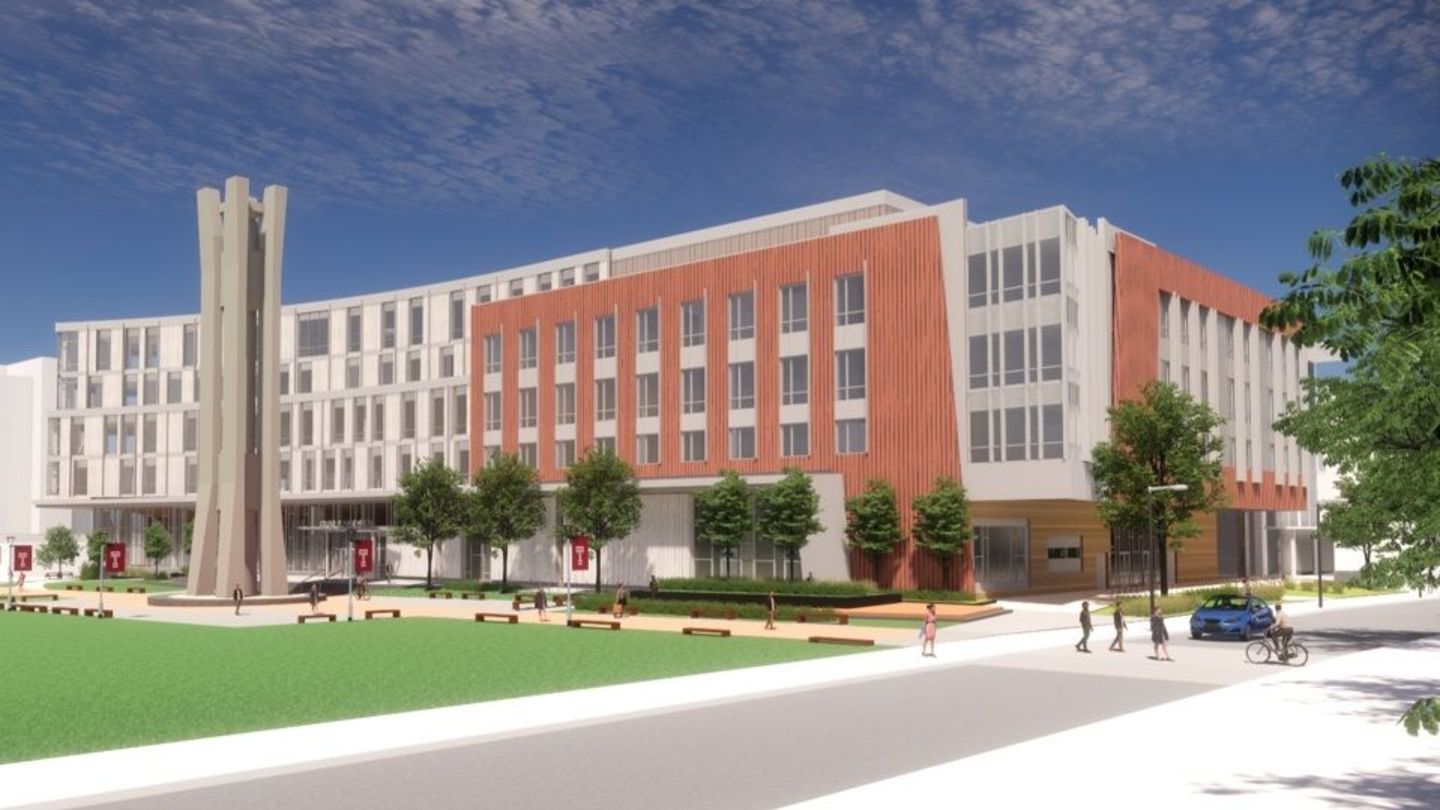 Contributed photo
If the COVID-19 pandemic has taught us anything, it's the importance of public health. For more than two years, the entire public health community worked tirelessly to ensure that the nation—and world—made it through the pandemic. 
Due to these recent events, the need for high-quality, compassionate public healthcare has never been more clear, and that's where Temple University can help. Its College of Public Health (CPH) is one of the largest and most diverse colleges of its kind in the country, and its soon-to-be-renovated and expanded new home will ensure it continues to play a key role in reimagining how best to protect and promote health. 
This spring, the university will break ground on a 160,000-square-foot expansion and 150,000-square-foot renovation of Paley Hall. Formerly known as Paley Library, the building will become the home of CPH upon the project's completion. 
"This will be a signature piece of architecture right at the heart of the campus. It will be a beacon and it's part of the continual redevelopment and reimaging of our core campus," said James Templeton, assistant vice president and university architect for Temple's Project Delivery Group. "Across the country, we have seen colleges of public health become so important due to both the pandemic and ongoing healthcare issues. Right now, CPH is spread out across 13 different buildings and two campuses. Bringing them together helps them function so much better together, and it is appropriate that they will be consolidated into one building at the heart of campus." 
The building will also feature a number state-of-the-art teaching spaces, which will greatly help prepare students for the evolving field of public health. This is especially significant now, given Temple's commitment to ensuring that the future of learning meets future of work, as identified with the university's strategic priorities. 
"There are two particularly innovative spaces that will reside in the renovated Paley Hall," said Jennifer Ibrahim, interim dean of the College of Public Health. "One of these is our teaching kitchen, which will provide hands-on educational experiences for our graduate and undergraduate students in nutrition but also open the door for so much community engagement." 
In addition to the kitchen, a new simulation center will serve as the key centerpiece of the building. While the center will house traditional clinical spaces simulating a hospital and outpatient facilities, it also will include a simulated park, restaurant, North Philadelphia row home and an ambulance bay. 
"This is not just a state-of-the-art simulation center; this is the future of health. The space will give students a realistic view of working with people in North Philadelphia. A student can work through a scenario where someone is injured in a public space, transported via ambulance, providing care in a clinical setting and then delivering rehabilitation services back in their home," Ibrahim said. "The faculty that worked on developing this space truly understand how best to prepare our students and expanded the box, rather than just thinking outside the box." 
While the newly renovated Paley Hall will ultimately serve as the new home for CPH and its many students, faculty and staff, it will also house a new campus bookstore. 
The project is unique as while it's technically a renovation, the scope of the work is more expansive than that. 
"The building will be completely reimagined. It will essentially be stripped down to the structure, and we're going to completely redo the facade. It's going to be one of the signature buildings on campus," said Martin Droz, associate vice president for planning design and construction for the Project Delivery Group. "Right now, Paley does not have a lot of windows, but that won't be the case with the new building. We are opening up the atrium in the center of the building and putting windows on the south side of that atrium to get more light pouring in. We're really trying to maximize daylight by changing the side of the building." 
When complete, Paley Hall will be the latest Temple project to receive LEED certification. It will also be the first building to be WELL certified, which measures a building's ability to impact human health and well-being. 
While Paley Hall and its renovation is among the most significant projects undertaken by the Project Delivery Group, the team there has also recently completed a number of other projects that are reshaping Temple's campus. Here's a closer look. 
Center for Anti-Racism opens 
On Monday, Nov. 14, the Center for Anti-Racism officially opened its doors. 
Located within Mazur Hall, the center will serve as a hub for discussion about policies and behaviors concerning race and racism in the U.S. and also offer workshops and host guest speakers. 
Ritter Hall renovations 
Ritter Hall received a notable facelift recently, as both its north entrance and entry lobby were completely redone. Corridors, conference rooms and faculty offices also were renovated, and the dean's suite and reception area now has a brand-new bright "cherry" red backdrop, which makes it all the more inviting for students and visitors. 
Innovation Hub 
This past spring, the university began construction on its Innovation Hub. The space, which is located on the Health Sciences Center, will provide office, work and collaboration spaces for start-up businesses. It will also be used to help accelerate Temple's own research enterprise, which has been identified as one of institution's strategic priorities. 
Liacouras Walk South  
This past summer, the Project Delivery Group completed its renovations to Liacouras Walk South, which was the largest landscaping project ever undertaken by the group. 
The project included the replacement of pavement as well as regrading. But the real draw is the new water fountain, plaza and campus green space. It's already become a staple for outdoor campus gatherings.