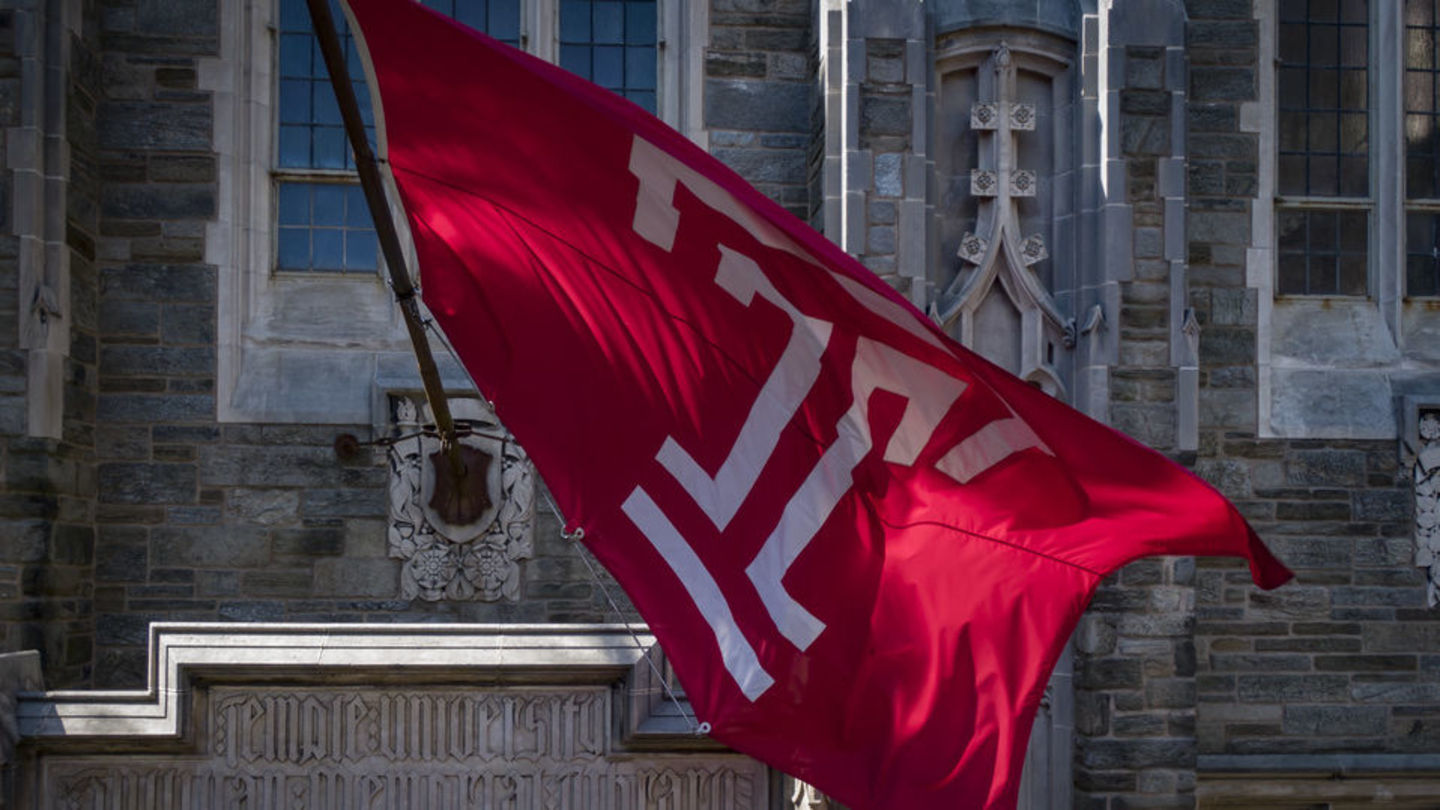 Betsy Manning
The university has recently completed Phase 1 of Flying Further, the research and assessment phase of our strategic planning process. The Strategic Planning Steering Committee, the Futures Committee and the Executive Planning Committee collaborated to form a deeper understanding of the current state of the university, which will serve as a foundation for future planning. As part of this work, a values survey was sent to the campus community to help inform our understanding of how we see ourselves and what is important to us. 
The co-chairs of the Steering Committee, Vice President of Information Technology Services and Chief Information Officer Cindy Leavitt and Vice Provost for Undergraduate Studies and Professor of Greek and Roman Classics Dan Berman, spoke with us about what they learned in Phase 1, as well as how these outcomes will help shape the ensuing phases of the strategic planning process.
Temple Now: Now that we've completed Phase 1 of Flying Further—our assessment and research phase—can you speak to its primary outcomes?
Dan Berman: We've come a long way. We're learning and understanding more about the university. We've brought together a large and diverse group of people along this journey, and it's been a really positive and productive experience. 
Cindy Leavitt: Phase 1 was also an opportunity for the deans and vice presidents to come together in ways that we haven't in the past. As a leadership team, we looked at what's going on at the university and what's coming in higher education. We know our strengths, and we also learned where there are opportunities for us to improve. This collective effort was very productive and helpful. 
TN: The values survey was a primary tool for gathering information in Phase 1. Can you describe how that process went and who the audiences were?
CL: The values survey was the idea of the values and culture subgroup of the Steering Committee, which I chaired. We wanted to clearly understand what our perceived values are according to students, staff and faculty, and alumni. The survey was intended to identify Temple's core values and assess how well we are living those core values. 
TN: What was the response to the survey?
CL: Working with our colleagues in Institutional Research and Assessment, we sent the survey to more than 240,000 people this past spring. We received more than 8,500 responses, including responses from more than 3,700 students! Thank you so much to everyone who participated. Your responses were very much aligned with what we learned when doing our work on Temple's mission statement a few years ago.
The primary finding is that we are very consistent in our articulation of Temple's core values across all of our different groups. 
Diversity was the most frequently selected value across our audience groups. The other top 10 values identified by respondents were inclusive, community-minded, hard-working, affordable, welcoming, global, perseverance and innovative, and that we prioritize learning. We learned through respondents' comments that while many affirmed or advocated we remain committed to these values, there is always more the university can do to better live or fulfill these values, particularly around affordability.
TN: What strengths were identified that we can build upon? Similarly, are there areas of growth that were identified as key opportunities?
DB: One of the ways that we encapsulate the work of the Steering Committee is by thinking about the emerging themes that resulted from our discussions. These themes articulate our strengths as well as a fair amount of opportunity for growth—areas in which we can become even stronger.
Based on their Phase 1 work, the Steering Committee subgroups identified six broad themes that present key strengths and opportunities for the university: Temple is an urban institution with deep ties to our surrounding communities; we are firmly committed to our long tradition of prioritizing diversity, equity and inclusion; we value accessibility and affordability; we must harness our collective identity and focus; the landscape of higher education is rapidly changing; and only agile and innovative institutions will thrive in the coming decades.
CL: The emerging themes are distilled insights from the work of the Steering Committee. The first three emerging themes are the foundational strengths of the university. They're what make Temple so unique. The last three emerging themes are those we need to address to prepare for what's coming in higher education. 
DB: One of our identified strengths is our location and our deep ties to the community. Philadelphia offers strengths and opportunities for us, particularly due to our connections with the city. Temple offers healthcare through the hospital, program and research opportunities for students, internships, and career opportunities. And, of course, our institution's character is closely tied to that of the city; it's our identity. People are proud to be from Temple, and proud to be from Philadelphia. 
Another strength is definitely diversity. It was an important area of discussion among the committees. We have a longstanding tradition when it comes to the diversity of our students, faculty and staff, as well as an emphasis on equity and inclusion. We're gaining even more ground in the diversity of our student body, especially with this incoming class. This is an area in which everyone agrees we can build upon even more.
We also identified many ways in which we have institutional characteristics that will help us grow into new, important areas. And we've had numerous conversations about the changing nature of higher education in the U.S., and how our institution can address and grow with these changes. One example is how we've been affected by COVID-19, and how we've handled the pandemic and pivoted online. 
CL: There was a great amount of work by the committees that went into deeply understanding the university. Hundreds of hours were spent reading about, discussing and researching the university. We effectively all took a course on Temple over the past seven months. Committee members dedicated a large amount of time to this process and we are so appreciative.
TN: How were each of the committees involved during Phase 1? What role did each of them play?
CL: The Executive Planning Committee identified each committees' members, and they determined how the committees would work together and what that process would look like. This is the committee that coordinates the whole process and ensures that we are moving forward together. 
DB: The Steering Committee had a crash course on everything Temple over the past seven months. This involved lectures from experts, discussion sessions, and a variety of other activities to help promote understanding of the university and its functions. 
The subcommittees met every week and the full committee met regularly, in different combinations. We listened, and then we dug through material and data we requested. We had discussions and created subgroup reports. For the Steering Committee, our work was focused on producing a SWOT [strengths, weaknesses, opportunities and threats] analysis of the university. This was really the structure that guided us through the process. 
CL: The Futures Committee is a group of vice presidents and deans, and they provided crucial input into Phase 1 from the perspective of the university's senior leadership. The Futures Committee worked with Institutional Research and Assessment and asked all deans, vice presidents and vice provosts to complete a survey about who their peer, aspirant and competitor schools are. The committee also facilitated a SWOT analysis from every unit, school and college that was shared with the Steering Committee. Most importantly, the Futures Committee brought the university's leaders together for a retreat to discuss Temple's strengths, opportunities and aspirations. 
TN: How do the results of Phase 1 of the strategic planning process serve as a foundation for Phase 2 and all subsequent phases?
CL: What we really tried to do in Phase 1 is understand who we are as a university to serve as a foundation from which we can leap forward. There are two statements that we'll craft in Phase 2: the purpose statement and the vision statement. 
The purpose statement is based on our values—who we are at our core and why we do what we do. It is what drives us. We instinctively know that we have a shared purpose, a reason that Temple exists and that Temple is different and unique. We want to be able to articulate that in a concrete way. 
The vision statement is about the future and will be aspirational—and hopefully inspirational. It will be the ideal of where we want to go. 
DB: The first thing we're going to work on in Phase 2 is the purpose statement. We've done the work in Phase 1 and it gives us a consistent understanding of our institution's strengths and opportunities on the horizon. It is going to make the discussions around purpose and vision much more productive. The work of these two phases—articulating our values, purpose, strengths and vision—along with our mission statement will lay the foundation for articulating our strategic priorities. That will be exciting.
TN: Any final thoughts as you close out Phase 1?
CL: We want to communicate our gratitude. There was an immense amount of work, effort and dedication put into this process by a great number of people. This is really something to celebrate and to acknowledge.
DB: Agreed—and we're looking forward to what comes next.
To learn more about Flying Further, visit plan.temple.edu.