Phase 1: Assessment and Research
Phase 1 of Flying Further was the discovery phase of the strategic planning process. It involved crucial conversations and analysis by a broad group of university faculty, staff, students and community members to provide thoughtful and important insight about Temple.
The Strategic Planning Steering Committee, the Futures Committee and the Executive Planning Committee collaborated to develop a deeper understanding of the current state of Temple, allowing them to identify the university's strengths, opportunities, challenges and aspirations.
As part of this work, the Steering Committee—which comprises a diverse group of 42 representatives from a broad range of schools and colleges, administrative units, alumni, and community members—focused on an in-depth analysis of Temple's current state and our place in the higher education landscape. Together, they delved into a period of research and discovery to determine and catalogue Temple's strengths, weaknesses, opportunities and threats, as well as the university's core values, within the context of the dynamic nature of higher education in the U.S. 
These findings illuminate for us what sets Temple apart as we build upon our foundation and envision our future.
Values Survey 
A primary initiative during Phase 1 work focused on gaining a better understanding of the university's core values and assessing how well the university is living those values.
To achieve this, the Steering Committee's values and culture subgroup, working with the Office of Institutional Research and Assessment, deployed a values survey to 240,000 university students, faculty, staff and alumni. The survey helped inform how we see ourselves and who we want to be.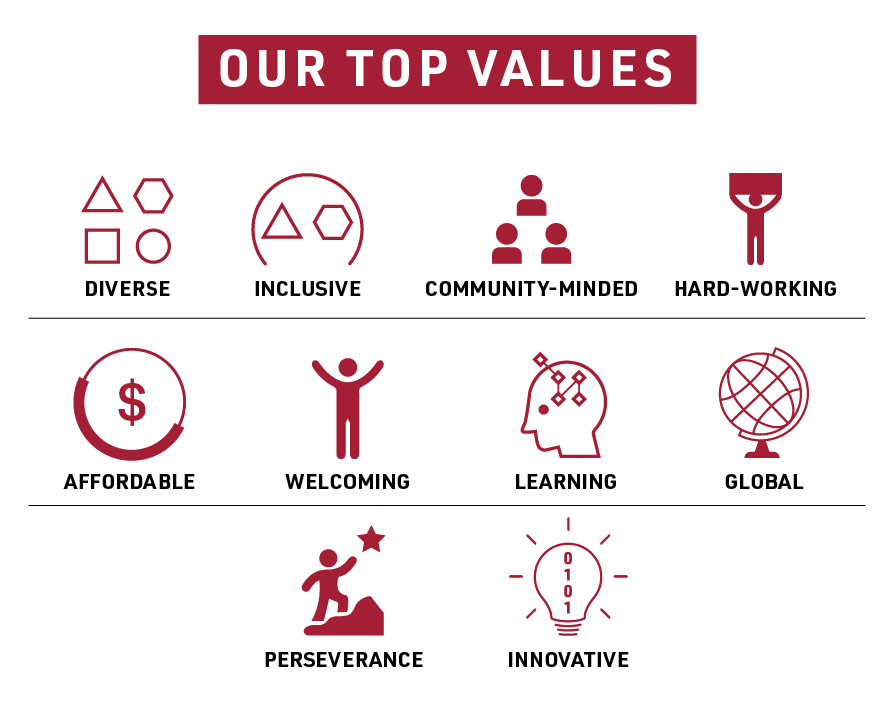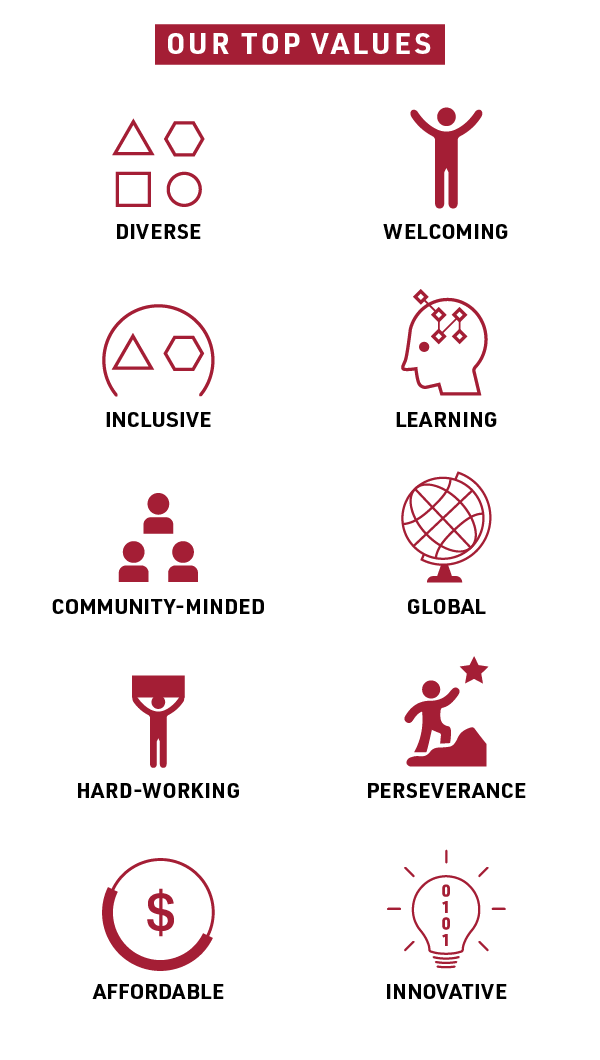 After receiving thousands of responses, the group found that diversity was the most frequently selected value across all stakeholder groups. The survey also identified that as a community, we believe Temple is inclusive, community-minded, hard-working, affordable, welcoming, global, persevering and innovative, and that we prioritize learning.
Emerging Themes
Based on the Phase 1 work, the Steering Committee developed the following six broad themes that capture the essence of the university. These themes represent both Temple's current strengths and areas in which the university can further advance.
Temple is an urban institution with deep ties to our surrounding communities. Our domestic and international campuses provide significant opportunities for students to gain real-world experience; for meaningful, community-oriented programming; for recruitment of top faculty and more. Our ties to Philadelphia significantly impact our character and identity. We are proud to be part of Temple and from Philadelphia.
Diversity, equity and inclusion continue to be important priorities for Temple. We are firmly committed to our long tradition of prioritizing the diversity of our students, faculty and staff, as well as prioritizing equity and inclusion across all that we do. These are areas of strength for Temple, as well as opportunities for continued growth.
Temple values accessibility and affordability. As Philadelphia's public institution, we believe that everyone should have access to an affordable education. As we move forward with the strategic planning process, we remain dedicated to this core tenet of our mission, and to pursuing opportunities to better fulfill our commitment.
Temple must harness the power of collective identity and focus. The entire Temple community has a strong sense of who we are and what we stand for. Our collective identity allows us to focus on our mission-centric goals and opportunities.
The market landscape of higher education is rapidly changing. As higher education in the U.S. develops more quickly than ever before, we must remain focused on new and current opportunities that keep us competitive.
Only agile and innovative institutions will thrive in the coming decades. To address the changing landscape of higher education, Temple must be nimble and embrace innovation.
Planning Process Committees
Learn more about how each of the Flying Further committees contributed to Phase 1.
Next Steps: Phase 2
The work completed in Phase 1 creates the foundation from which Temple will move forward with the subsequent phases of the strategic planning process. With a clear understanding of the university's strengths and core values, Phase 2 will focus on developing the Flying Further purpose and vision statements. 
Along with our institutional values, the purpose statement is the foundation of our work at Temple and will be created first. It will articulate our shared purpose at Temple—what makes our community so unique and why what we do is important. Once this is clearly articulated, we can then begin to focus on our vision for the future and the development of a comprehensive strategic plan to realize that collective future. 
The university community will have opportunities to contribute to the development of the purpose statement as we work through Phase 2 of the strategic planning process.